В данном сборнике представлены несколько индийских групп, играющих преимущественно тяжелый рок.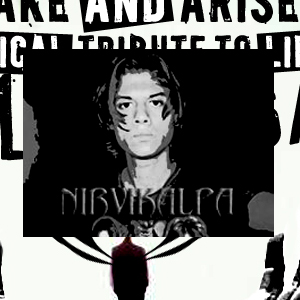 Nirvikalpa
Nirvikalpa is a thrash metal band into originals from South Delhi formed in the winter of 2001 by ex-lead guitarist of Misanthrope turned singer-songwriter Rishi aka DarkLord. Right from the early stages till now it has always been a one man band jamming to a drum machine and pre-recorded bass patterns with a few external musicians strictly for rare live sessions. WarCry was the very first song to be recorded followed by Sum Of All Energies, both instrumental metal songs based on pentatonic riff-oriented structures with programmed drumming. The instrumental metal album Winter of Doom was released in late 2002 comprising some previously recorded songs and one cover, a classical Bach piece Brandenborough III in which the bassoon and cello parts are replaced by overdriven guitars and the remaining strings parts on piano. WarCry was recently released on a promotional exposure CD by NY based Kid Antrim Music in a heavy metal compilation.
About Antim Sanskar Rishi had the habit of translating his favorite thrash and death metal songs in Hindi for fun when hanging around with his metal head friends. Somewhere long back, the idea had been revolving in his mind that if underground metal bands around the world were doing songs in their own respective languages, so could Indian metal bands. The thought was simple, to write songs with a totally aggressive and nihilistic attitude in a language that belongs to the place not to entrain mass appeal but as a straightforward denial of the current situation in Indian underground metal to which he wanted to give a distinct Indian flavor without degrading the genre. This also made it possible to reach out to the non-english crowd by breaking the clichéd language.
State of Brahmic Bliss an obscure song previously released in Winter Of Doom was a guitar solo on only one riff repeated throughout. This riff was used for the intro of Antim Sanskar, a song based on terrorism, war and death. Initially, the song was composed, written and produced in his small setup at home without any external help but without vocals as no metal vocalist was willing to growl in Hindi. Finally, he did the vocals himself and no one was disappointed.
Prakalp
Prakalp, a symphonic hindi metal band from mumbai, has set a new trend by performing metal songs in clean hindi vocals.
they are a very fresh band(5 months old) and they are more known for their originals because they cannot cover songs in hindi as nobody has produced a hindi heavy metal album till date.