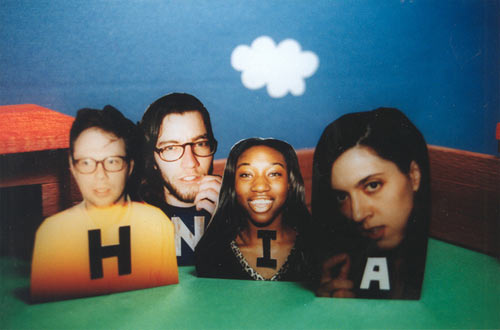 Биография:
His Name Is Alive is a long-running rock band from Livonia, Michigan. After several self-released cassettes, they debuted on 4AD Records in 1990, starting a long run at the label. Throughout the band's ever-evolving history, leader Warren Defever has been the only constant member, with a variety of musicians and female singers contributing over the years.
Defever began recording in parents' basement in 1985, while still in high school. His initial work consisted primarily of Defever alone recording the music to a 4-track recorder, with friend Angie Carozzo providing vocals. After Defever went off to college and met Karin Oliver, she became the band's primary vocalist.
The group's work initially resulted in a self-released cassette called I Had Sex With God. Defever sent the tape to 4AD in hopes of being signed to the label. Despite label president Ivo Watts-Russell's initial rejection of the band, Defever continued to send him tapes, with new and improved versions of the songs appearing on each new tape. Ivo signed the band in 1989, believing that (along with his This Mortal Coil partner John Fryer) he could re-mix the songs into a proper album 4AD could release. Livonia appeared in the summer of the 1990, and became one of the label's biggest sellers of the year.
A second album of songs similarly recorded in Defever's home studio (which he dubbed Time Stereo) and remixed in England by Ivo and Fryer, Home Is In Your Head, appeared in 1991. Over most of the rest of the 1990s, Defever improved Time Stereo to record more professionally, and the band became a favorite of 4AD's devoted fanbase, seen as torch-bearers of the label's 1980s heyday, as the label moved more toward the American indie scene. This culminated with 1996's Stars On ESP, an ambitious project three years in the making. At the same time, Defever's agreement with 4AD was very loose, allowing him to release many independent projects both under the HNIA moniker and other names.
1998 was a year of big change for both 4AD and HNIA, as Ivo sold the label to Beggar's Banquet, resulting in major changes in the label. The band signed a more traditional contract with the label, bringing with it increased commercial expectations. When 1998's Ft. Lake failed to meet those expectations, most of the band left for full-time jobs or more commercially successful endeavors. Stripped down to Defever and vocalist Lovetta Pippen (an experienced soul and gospel singer before joining HNIA after appearing as part of a gospel choir on Stars On ESP), the duo released two soul and R&B-influenced albums in 2001 and 2002, alienating much of the band's fanbase. After having sold a respectable (but far from commercially successful), 100,000 albums for 4AD from 1990 through 2002, the band was dropped by the label, leaving the band's future in doubt.
Defever kept the band's name alive through releases on his Time Stereo label, mostly with releases of older concerts and a few new experimental recordings. In 2005, Defever co-founded the Silver Mountain Media label, and secured distribution for HNIA with major label Sony-BMG. 2006's Detrola was the first full-length release on the label, and was met with much acclaim, winning back many of the old fans from the 4AD days, and earning success on college rock radio and modern rock charts. The band's website states that a follow up to Detrola will appear in 2007.
Дискография:
Main albums
* Livonia (1990) (4AD)
* Home Is in Your Head (1991) (4AD)
* Mouth by Mouth (1993) (4AD)
* Stars on ESP (1996) (4AD)
* Ft. Lake (1998) (4AD)
* Someday My Blues Will Cover the Earth (2001) (4AD)
* Last Night (2002) (4AD)
* Detrola (2006) (Silver Mountain)
Singles and EPs
* The Dirt Eaters EP (1992) (4AD)
* Universal Frequencies EP (1996) (4AD)
* Nice Day EP (1997) (4AD)
* Melody Farm EP [split with Little Princess] (1998) (Shaolin Temple / timeSTEREO)
* Freebie Single (1998) (4AD)
* Can't Always Be Loved (1998) (4AD)
* Happy Blues / One Year (2001) (4AD)
* Nothing Special (2001) (4AD)
* Raindrops Rainbow EP (2005) (Silver Mountain Media)
* Silver Makeup EP (2007) (Silver Mountain Media)
Independent projects, compilations and remixes
* Sings Man on the Silver Mountain and 8 Other Songs (1992) (Rykodisc)
* King of Sweet (1993) (Perdition Plastics, reissued in 2005 via timeSTEREO as MP3)
* Sampler (1993) (4AD)
* Radio LP (1998) (timeSTEREO)
* Always Stay Sweet (1999) (4AD)
* Emergency (2000) (timeSTEREO)
* When the Stars Refuse to Shine (2000) (timeSTEREO)
* Early Music Volume 1 (1985-1989) (2000) (timeSTEREO)
* RMX's 1995-2000 (2000) (timeSTEREO)
* Rare Tracks in the Snow (2000) (timeSTEREO)
* Spring Can Really Hang You Up The Most (2001) (timeSTEREO)
* Heart and Hand [10 CD box set] (2001) (timeSTEREO)
* Cloud Box [10 CD box set] (2004) (timeSTEREO)
* Brown Rice (2005) (timeSTEREO)
* Summer Bird LP (2005) (Ypsilanti)
* Someday RMX (2006) (Silver Mountain Media)
* Detrola Instrumental (2007) (Silver Mountain Media) (iTunes only purchase)
Live
* Sound of Mexico (1995) (timeSTEREO)
* Finer Twilights (1997) (timeSTEREO)
* Golden City (1997) (timeSTEREO)
* Great Lake States Blues (1997) (timeSTEREO)
* Ten Years Long Time (2000) (timeSTEREO)
* In the West (2000) (timeSTEREO)
* In the East (2000) (timeSTEREO)