О храме Пилаяр Пати:
Pillaiyar patti Pillaiyar temple is an ancient rock-cut cave shrine dedicated to Ganesha, located at Thiruppatthur (1 km from Thiruppatthur bus stand or Thiruppatthur Thiruthalli nathar Temple (One of the Thevera Temple), Sivaganga district in the state of Tamil Nadu, India.
In the cave temple, there are rock cut images of Siva and other gods as well as several shrines. The Agama texts found on stones in the temple help date the temple between the years of 1091 and 1238. A unique Tamil image of Pillaiyar found in the temple helps to verify this dating. The presiding deity of the temple is Karpaka Vinayakar or Desi Vinayaka Pillaiyar.
As on today, the Pillayarpatti Nagarathar worshipers are involved in conducting daily worship services in the temple, as well as maintaining it.
People from all over the state, come here everyday, for the worship of Pillayar, the Lord of Wisdom.
The Ganesh Chaturthi / Vinayaka Chaturthi festival, is celebrated for 10 days in a grand manner every year during the months of August and September. During that time, great number of pilgrims gather and participate in the Car Festival.
Like all Shivite temples, Pillayarpatti temple also has Lord Shiva as its presiding deity. Lord's name is Arjunapureeswarar. This temple is more famous for the rock cut Vinayagar (Ganesha) sitting majestically inside a cave.
Temple timings:
The temple opens at 6 in the morning and stays open till 1 PM. The shrine is again opened at 4PM and is open till 8.30 PM.
Shri Karpaga Vinayagar
The Vinayagar sannidhi (Sanctom Sanctorum) is a cave where the 6 feet Karpaga Vinayagar has been carved inside. As this is a cave formation, there is no provision to go around for the pradakshina.
The inner sanctum is well illuminated with oil lamps and the whole idol is covered with gold. Its only during the Abhishekam or the holy bath when we get to see the full idol in its pristine glory.
История храма Пилаяр:
* Pillaiyarpatti is located in Thiruppathur, Sivagangai District of Tamil Nadu. It is situated between Kundrakkudi and Tiruppatthur. Pilliyarpatti is just one Kilometer away from Thiruppatthur and 3 kilometers from Kundrakkudi.
* Pillaiyarpatti Karpaga Vinayagar is carved out in a cave of Pillaiyarpatti Hillocks. Lord Vinayagar is carved out from the rock of the cave. Lord Thiruveesar ( SIVAN ) is also carved in the rock of this cave. History states that Pandiya Kingshad designed these structures in the caves.
* The age of the cave temple is 2500 years or more. There are 14 stone Sculptures in the cave ( from 500 BC to 1284 AD ). These stone Sculptures state that ancient names of PILLAIYARPATTI as EKKATTOOR, THIRUVEENKAIKKUDI, MARUTHANGUDI, and RAJANARAYANAPURAM.
--- Pillaiyarpatti temple is a rock - cut temple located in Thiruppatthur, Sivagangai District.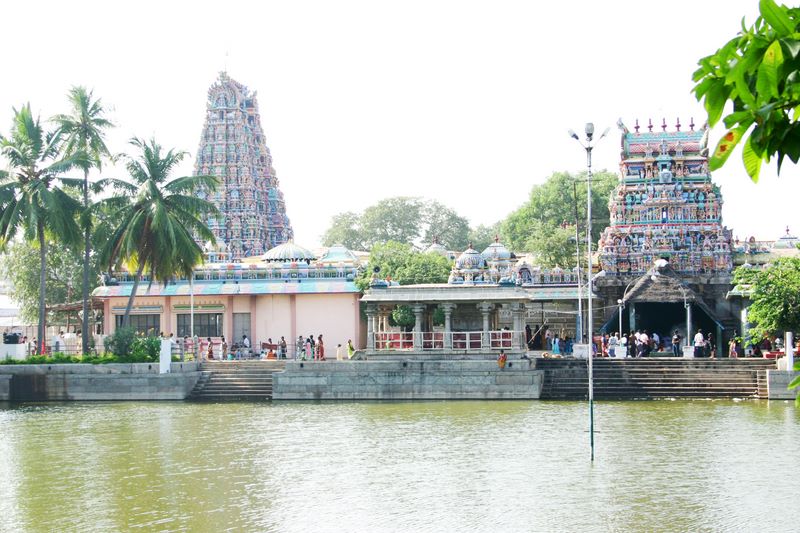 It was built after viewing a hillock by the early Pandiya kings and the image of Pillaiyarpatti Pillaiyar and that of a Siva Lingam were carved out of a stone by a sculptor called Ekkattur Koon Peruparanan who put his signature on a stone inscription found even today in the sanctum. He put his signature in Tamil Language which was in use between 2nd and 5th century AD. It can be concluded that the icon of Pillaiyarpatti Pillaiyar must have been carved around 4th century AD.
Pillaiyar (Vinayagar), the God of Victory is the main deity here in the name Pillaiyarpatti Pillaiyar.
This temple is the only one in Tamil Nadu which deserves pride for having a 6 feet rock-cut Pillaiyar idol. The Thumbikai of Lord Pillaiyar is curled towards his right side and so the God is also known as Valampuri Pillaiyar. The larger inner shrine with its splendid sculptures make the people wonder on the first
The chettiyar (nagarathar) community has done/been doing an outstanding job in maintaining the temple and the temple IS clean.
The Vyasyas (Now called Chettiars) are people who are good in money lending business and they were known for money handling skills. Initially it seems that they were part of now called Andhra Pradesh (Still Vyasya is a one of the big community in Andhra). It seems Chettiars had animal instict, whenever they sense there is goin to be flood and famine they will leave that place and migrate to an other kingdom. They were very well welcomed by the kings because of their skills in business and of course they were rich..Also migration took place when heavy taxes were imposed on Nagarathars by the kings.. This migration continued until finally they got settled in Sivagangai under Pandya king Soundarapandian.
There was difference of opinion among the vyasyas and they split in to number of subdivisions. That time Ariyalur Manika vinayagar was the temple for vyasyas. Now after the split each division asked for a temple, so pandya king constructed nine temples, one for each subdivision. Pillayarpatti is one among them.
Still now chettiars are the only community whose subcaste are divided based on Sivan Temples. For e.g. there are subcastes like Pillayarpatti, Elayatrankudi and etc.
* From 1284 AD, Rights of this temple were given to Nattukottai Nagarathars STONE sculptures at Thiruveesar Temple cave state this.Just like Karpaga Tree Lord Karpaga Vinayagar grants all Blessings. In view of this Load Vinayagar is named KARPAGA VINAYAGAR. The name " Thesi Vinayaga Pillaiyar" is also there in the stone sculptures.
* Worship of Lord Vinayagar is found in different parts of the world through ages. In this, Karpaga Vinayagar worship finds first place down through the ages and it is also regarded as First Lord Vinayagar.
* In the world there are 2 Vinayagars who are having 2 hands. One is at Pillaiyarpatti and the other is at AFGHANISTHAN – Lord Vinayagar at AFGHANISTHAN is in standing position with so many ornaments of later age.
* Pillaiyarpatti Pillaiyar is having only 2 hands which is a special feature.
* The Sculptor who designed the figure of Lord Vinayagar also had registered his signature as " EKKATTOOR KONE PERUMPARANAN" ( Perunthatchan) is in Tamil letters which was in use between 400 BC and 500 BC. From this we can take for granted that is was carved just before 500 BC.
* From the history of divine architecture and from stone sculptures and from the available documentary evidence Pillaiyarpatti Pillaiyar figure alone is the first Pillaiyar in the world.
* Vinayagar's trunk is curved at the right side ( Valampuri Vinayagar) which is also a unique feature. Lord Karpaga Vinayagar is seated facing northern side. In view of this those who pray to him get success after success.
* There are deities in this temple such as goddess Karthiyayini ( who arrange marriages) Nagalingam ( who gifts offspring to human beings) Pasupatheeswarar ( who showers all wealth).
* Vinayagar Chathurthi is the very important festival in this temple. It is 10 days festival. Kappaukkattutual and hoisting temple flag begin before 9 days. At the 9 th day car festival and much celebrated decoration of sandal covering ( Santha-na-kkappu) to Pillaiyar takes place.
* Devotees who observe Chathurthi Fast for a year come to Pillaiyarpatti on Avani Sukkilaptcha Chathurthi day (Festival) and fulfills it. They observe fast on Chathurthi day in front of vinayagar sannaidhi and take part in " KumnaJebam" and receive holy pot of chanted holywater and take bath taking for granted that they bathe Lord Vinayagar seated in their hearts. Observing of Vinayagar Chathurthi Fast for one full year brings all blessings and wealth to devotees and it is also a proved fact.
из Википедии