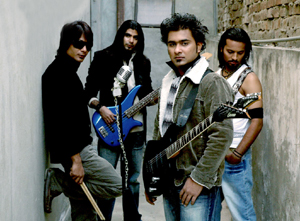 The band constitutes 4 members. The front man is Sam, real name. Akash, whom the band is named after and rightly so, not only has he lent his vocals, but produced, composed, penned the lyrics and completed all other audio production for Aks. Other band members are Kenny (Xerick) on drums, Miki (Shaleem) rhythm guitar and Fiz (Faisal) on bass-guitar; however Sam has also had some input in the drumming and guitar side of things too on a number of songs in the album. The busy man laboured over Aks in his own studio where he is also currently working with other upcoming bands and artists. Sam is also preparing Aks for release across the border, where the band has garnered some interest from young Indian fans.
Aks' CD cover has a dark theme reflecting the haunting, gothic sound of the album, not to be fooled though as there is plenty of variety here to keep listeners on their toes with a handful of slow ballads and some happier, upbeat numbers.
The album has a tres generous helping of 19 songs, (including an intro and two remixes) proving to be a real treat, not to mention value for money for Akash fans.
Aks starts with an intro, setting the scene for the songs to follow, a sentimental and dramatic ambience, with Sam's Urdu verses backed by the customary guitar strings and drum percussions.
The hit song 'Ji Liya' kicks off the album, A mega rock anthem, which brought Akash into their own, having them establish their own distinct sound with its gothic charm. It has been firmly slotted in the winning half of the local chart scene in recent weeks, definitely an exciting number with its full on 'head banger' chorus. If 'Ji Liya' is your cup of tea, you will also like 'Hum Azaad Hain', a patriotic tarana with a difference, again a 'haunting' rock number with a strong and captivating melody, although I felt it is let down by poor production which is quite noticeable in this song upon closer listening. Then there's 'Tum Kahan Ho', a reprise of 'Ji Liya', a melancholy, more acoustic 'Ji Liya' that is, which involves lots of raag's. Unfortunately these raags and the high-toned singing doesn't really harmonise well with the backing music, although die-hard 'Ji Liya' fans may beg to differ.
'Piya' is a stand alone song and has a sentimental and edgy rock sound, This song could be imagined as an old romantic ghazal from a 60's Pakistani's movie, sang from the heart by the great Mehdi Hasan, pictured on a hero like the late Muhammad Ali 'pining for his heroine' , but now imagine that fused with a heavy rock sound! We can be happy with the fact that this is Akash's own labour here and certainly not lifted from some old movie and Sam's vocals are really outstanding here.
'Kho Gaya Hoon', is an instant favourite for its infectious sound, seems Akash are paying homage to the classic 90's Paki-pop genre here, so one can say it has a huge dose of comforting familiarity.
Sam is experimenting with his vocals well in 'Kabhi' and 2005's big hit 'Aaj Phir', The latteris a soft and delightful ballad. This number reveals Sam's vocal miscellany, as he dabbles in eastern classical territory, for someone who isn't properly trained in classical music it's quite a pleasant surprise, particular those of us not accustomed to heavy rock sounds.
'Ajnabi', 'Kyun' and 'Na Mil Saka' are experimental fusion sounds. 'Ajnabi' starts with the blissful sound of violins, soon caught up with drum percussions and the chorus is quite catchy, these factors create a song worth appreciating; however one may find a slight inconsistency with Sam's vocals.
'Kyun' starts with a promising intro with the flute followed by heavy Akash signature drums and guitar notes, Sam's back on form with much gusto packed into his vocals.
After the flute and the violins, the Sitar's turn is up next in 'Na Mil Saka'. Fused with an acoustic guitar, makes a nice Eastern surprise in this heavily western influenced album, however it loses its charm gradually from around the first chorus. It has a nice 'show-off' guitar solo in there though to finish the song off, which is impressive enough to win its listeners back.
No modern album is complete without an instrumental thrown in; here we have 'My Last Breath', which can be described as intense with blazing guitar solos and heavy riffs and with a boldly emphasised melody.
'Zindagi' and 'Tanha' (alternative version of Ajnabi) are two unplugged numbers, soft acoustic and melancholic sounds depicting a lovers yearning. Listen out for the violins too!
The happier, upbeat numbers well suited for parties like 'Rock Funda'; a heavy and engaging 'fun' rock ditty complete with English rap, with an impressive composition and for those of you who have seen the lighthearted, funny video for 'Armaan', you will already be familiar with this entertaining, boogey-able number.
'Do Tin Chaar' also is a fun number, a medley which starts with a country and western sound and will have you swept up into a silly mood, complete with it's tongue in cheek lyrics.
Aks comes to a close with the remixes for 'Armaan' and 'Ji Liya', ending the album on an optimistic note, both remixes are loyal to the original songs, but with added thudding bass lines, definitely great for parties, maybe better suited for the young'uns.
I found this album more to be more of a thrilling ride for the younger listeners, or for the ''young at heart'' of course therefore it isn't really recommended for all, it certainly isn't 'easy listening', and at times I felt it lacked an altogether more wholesome sound with slightly less than adequate production quality, however these two factors can be overlooked in contrast to it's freshly baked, hummable melodies, quite distinct in their sound, these songs will play in your head long after you have stopped listening to them, and for the sheer quantity of the songs giving it an added bonus, also noting that the band haven't compromised on creativity, with its many experimental sounds making it an overall excellent effort from a new rock act.
из mag4you.com