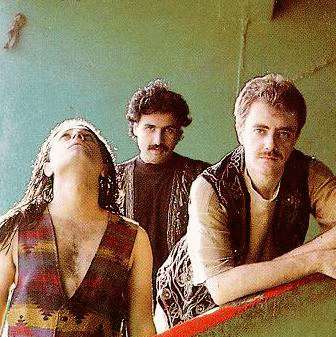 Junoon (Urdu: جنون, literal English translation: "obsession/passion") was Pakistan's most popular rock band from Lahore. It was formed in 1990 by guitarist, songwriter and medical doctor Salman Ahmad. They are also regarded as the pioneers of Sufi rock (influenced by Sufism - a mystic, devotional tradition within Islam) Q magazine calls them "One of the biggest bands in the world".
They sing mostly in the language of Urdu, in a style blending Western hard rock with Sindhi and Punjabi folk and Qawwali. Junoon, in effect, had to create an audience for rock music in Pakistan. "The band's appeal reaches beyond the Westernised elite", says Newsweek.
Heavily influenced by rock bands like Led Zeppelin, Junoon aimed to combine loud guitar riffs with the tranquility of sufi poetry by the likes of Maulana Rumi, Allama Iqbal and Bulleh Shah. The band were one of the first bands in Pakistan to insist on playing live music where most music was sampled and programmed synthpop.
Junoon's music is based upon issues in the world. Their music has been one major force which has truly kept the national spirits high amidst the prevailing social woes which have surely worsened in the last three decades. Such music included songs like "Jazba-e-Junoon", "Sayonee", "Talaash", "Main Kaun Hun" and many more. Junoon's music is compared with the likes of Nusrat Fateh Ali Khan or Lata Mangeshkar. Junoon's music has captivated the Pakistani youth for well over ten years and they were the only saving grace to Pakistani music on the international scene after the departure of Pakistani pop-music heavyweights, Nazia and Zoheb and Vital Signs.
One of the legendary tours that Junoon had undertaken was their tour to Denmark and Europe in 2000-2001. This tour played a pivotal role in increasing Junoon's international popularity and standing and in spreading awareness about Pakistani music.
из Википедии